3 Phase Digital Energy Meters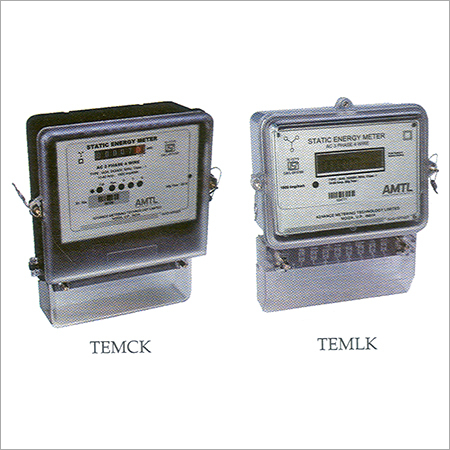 3 Phase Digital Energy Meters
Product Description
We are a well known entities in this field, engrossed in manufacturing, exporting and supplying quality approved 3 Phase Digital Energy Meters. Finding usefulness in residential, commercial and industrial places, the offered meters are used to measured the amount of electricity consumed by electronic device. These meters are manufactured by our dexterous professionals using high grade components. Clients can buy the provided 3 Phase Digital Energy Meters can be bought at pocket friendly rates.
Key Points:
Compact size

Accurate result

Easy to understand

Robust design

Key Attributes:

Compliance With IS : 13779 & CBIP Report No. 304
State-of-the-art design with class 1.0 accuracy
Liquid Crysta1
Display / Stepper Motor Counter Display
6 digits including 1 decimal digit (99999.9)
Comprehensive tamper detection and tamper proofing measures
LED indication (SEML / TEML) for calibration, phase indication, earth load tamper and reverse tamper
Display / Record cumulative active energy (kWh)
Compact, sleek and packed in dust, moisture and shock proof (IP51) polycarbonate enclosure.

Technical Specifications
Confirms to

IS 13779, IEC 62052 / 53, CBIP Report No. 304

Accuracy Class

Class 1.0

Reference Voltage

for 1Ǿ : 240V AC (-40% to +20%)

for 3Ǿ : 3x240V AC (-40% to +20%)

Current Rating 1b (1m)

for 1Ǿ : 5(20)A, 5(30)A, 10(40)A, 10(60)A

for 3Ǿ : 10(40)A, 10(60)A

Frequency Range

50Hz +- 5%

Power Factor Range

0(lag)-UPF-0(lead)

Starting Current

0.2% lb

Meter Constant

for 1Ǿ : 3200 Pulses/ kWh

for 3Ǿ : 1600 Pulses/kWh

Power Consumption

< 1W/ 8VA (in voltage circuit); <1VA (in current circuit)

Display

LCD- 5+1 / Stepper Motor Counter Display (99999.9) with rollover

Display/Record Parameters
Indications:
For 1Ǿ
Calibration LED
Reverse

For 3Ǿ
Calibration LED, R Phase,
Y Phase, B Phase, Reverse

Tamper:
For 1Ǿ
Current reversal, Phase reversal
Earth loading, DC/ AC magnetic influence
EMI/ EMC interface

For 3Ǿ
Current reversal, Phase reversal
DC/ AC magnetic influence
SEMC/TEMC - Stepper Motor Counter Display
SEML/TEML - Liquid Crystal Display